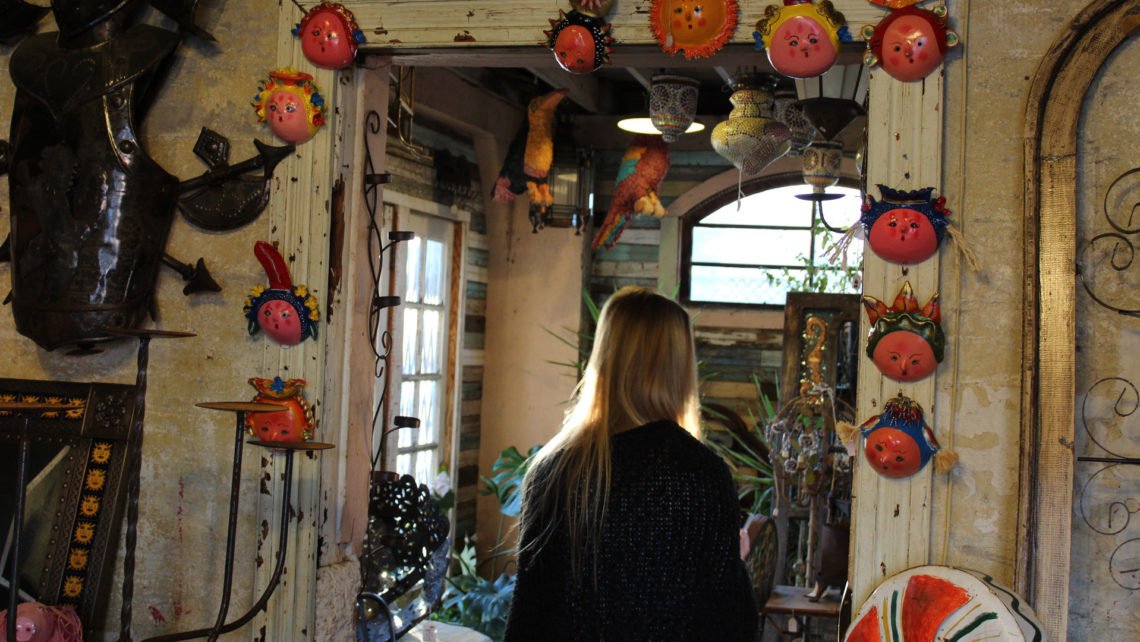 Although I visited this location three months ago, the important details were thoroughly seared into my neural folds upon entering the store and immediately becoming like a puppy at the first sight of snow. The atmosphere is quiet-dusty and peaceful yet I soon began to excitedly snap pictures and explore. Since then I have delayed writing out my experience, more from a fear of ruining the memories with the process of retrieval and re-storage than laziness (there may have been some laziness). But, as Old Home Supply Co. only sells used objects, let's consider it a stroke of strategy that I give you worn memories with the hope that they are all the better for their veteran appearance. So, here are some secondhand recollections of this secondhand collection.
The shop sits on all four corners of the intersection of College Avenue and West Jefferson Ave in Ft. Worth's Fairmount District. Each building has its own, loosely held set of categories, enumerated below.
Northeast corner:
Lamps
Elvis busts
Armoires looking at you through one eye filled with a tropical picture and the other an expressionless mirror
A bronze pig weathervane
Doors
Southeast corner:
Doorknobs
Bathroom appliances
Ballet shoes dripping off of an Elvis bust
Records
Doors
Southwest corner a.k.a. "the tub yard":
Outside decorations such as the following:

Tin pigs
Fountains
Flamingoes and dwarfs for that one house in everyone's neighborhood
Doors
Northwest side:
Window frames
Tables
Table tops
Table legs
Siding
Doors
There were many doors.
Which is befitting an enterprise that started off as one man salvaged architectural pieces-saving many a door and window—and compiled them without the intention to sell, until selling became the necessary step to thin out the crowded storerooms.
Ralph Watterson began the store in 1985 and has extended it into the neighboring buildings, refitting a bakery, Piggly Wiggly, and drug store in the process. A restoration specialist, he has carefully curated the insides, bringing in finds from around the U.S. as well as India and Mexico. The result makes what should seem like cluttered yards of brightly colored metallic junk actually a cross-cultural spread of craftsmanship. Needless to say, you do not find this stuff in Ikea. The frequent thrift store and antiques hunter knows how difficult this selection process can be so when one store not only brings these pieces together but helps refurbish them as well, what can you do but treasure it and thank Ralph.
And Ralph is worthy of any local or visitor's gratitude. He has been the driving force behind Old Home Supply's involvement in the community, entering partnerships with college students and art departments, allowing photography and giving discount rates to artists looking for old doors or unusual objects, and even lending artwork and parts of the collection to various events. By bringing the community alongside in its search for gems, Old Home Supply Co. does what most art galleries long to do-provides the residents and buyers of Ft. Worth with access to art in an open, welcoming way.
Not only the store collect pieces but also it adds its own imprint, restoring and recycling materials so that decades-old pieces feel fresh. This symbiotic relationship between art and local color is a hallmark of the store-as an antiques and restoration business, Old Home Supply Co. understands the importance of maintaining the historic feel of pieces and so is an active member in the preservation the Fairmount District's architectural honesty.
As my friend and I reveled in the eclectic mayhem of the store-two hours did not afford us enough time to see every piece-we noticed the surprising energy that had accompanied this trip. The proximity of lamp to lamp and buckets of drawer knobs did not detract from the occasional retro refrigerator decorated in psychedelic designs and 7-UP logo. The many and the few all were individuals yet coexisted and blended together peacefully.
This is not just a stop for home restorers to find materials or for an art student looking for wacky props and backdrops but a community treasure that opens up art to anyone willing to venture in.
– Sydney P. (Vanderbilt University)
Featured images: Old Home Supply Co. – Ft. Worth, TX
Want your ideas, words or photos featured on GalleryMonthly?